NC Cooperative Extension Hiring Area Specialized Extension Agent: Commercial Produce Food Safety
Job Summary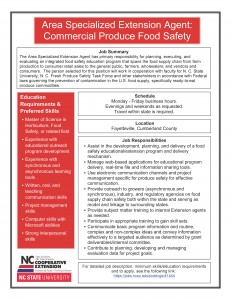 The Area Specialized Extension Agent has primary responsibility for planning, executing, and evaluating an integrated food safety education program that spans the food supply chain from farm production to consumer retail sales to the general public, farmers, wholesalers, and vendors and consumers. The person selected for this position will work in cooperation with faculty for N. C. State University, N. C. Fresh Produce Safety Task Force and other stakeholders in accordance with Federal laws governing the prevention of contamination in the U.S. food supply, specifically ready-to-eat produce commodities.
Location
Fayetteville, Cumberland County
Education Requirements & Preferred Skills

Master of Science in Horticulture, Food  Safety, or related field
Experience with educational outreach program development
Experience with synchronous and asynchronous learning tools
Written, oral, and teaching communication skills
Project management skills
Computer skills with Microsoft abilities
Strong interpersonal skills
The full job description including job responsibilites
and schedule can be found here: https://jobs.ncsu.edu/postings/41444.