Working With Food Banks and Food Pantries
There are many ways to work with Food Banks (larger, regional facilities with warehouses) and food pantries (locally-based organizations that engage in food distribution direct to clients). For example, there are efforts to get more local food into Food Banks and pantries (through gleaning, or connecting with community and home gardeners), as well as nutrition education opportunities.
Please see the Farm to Food Bank Resource Guide for NC Cooperative Extension for more information about how Cooperative Extension can facilitate local food connections for Food Banks and Food Pantries.

The entire guide can be found here: https://content.ces.ncsu.edu/farm-to-food-bank-resource-guide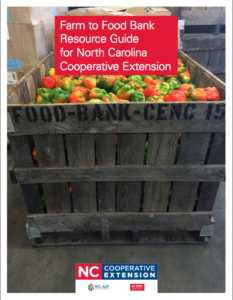 Or jump to the section you're interested in:
In addition, here are some national and North Carolina specific resources to help you connect with and support emergency food providers.
North Carolina Organizations and Resources:
National Organizations and Resources:
Was the information on this page helpful?