New Producers & Beginning Farmers
Find this page at:
go.ncsu.edu/readext?251160
There is growing interest in the exploration of farming as a new career in North Carolina and around the country. The primary challenges to new producers and beginning farmers include access to land, access to capital, and farm business planning training and support. This page is a starting point for aspiring producers and farmers to glean resources and knowledge that may answer questions and address challenges.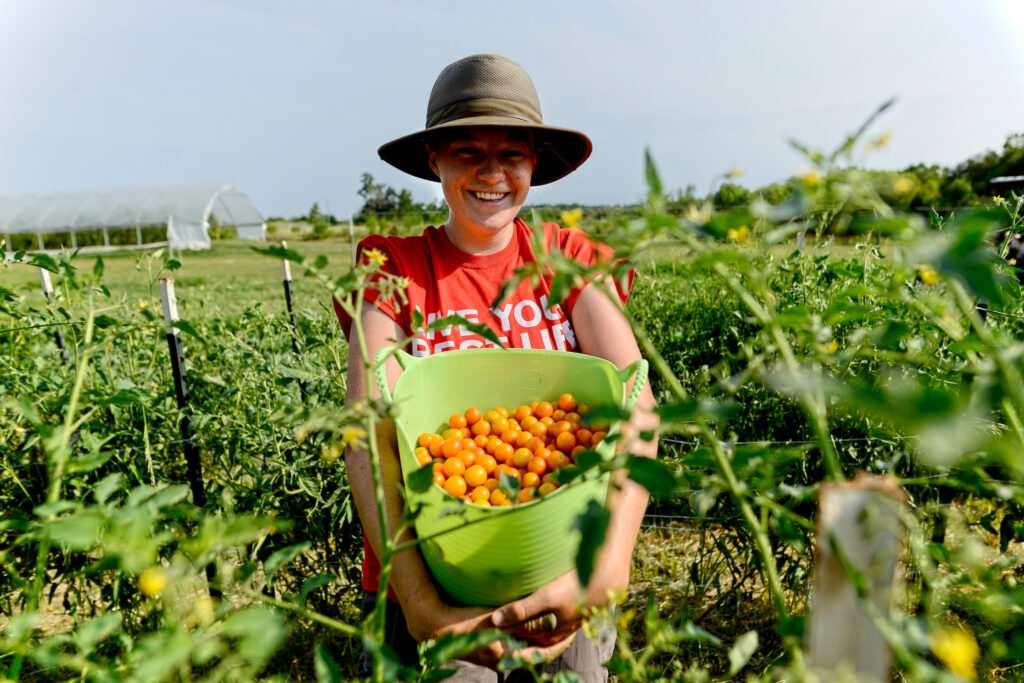 On This Page
Farm Business Planning Resources
NC New Farmer Toolbox Toolbox of resources for beginning farmers on the business of farming, including NC focused resources on business planning, accessing capital and credit, land access, marketing and more.
Getting Started in Farming: An Introduction to Farm Business Planning.


Online Training Module – "Eight lessons in this course will guide you through the process of imagining and planning a successful farming enterprise. You'll also hear from several farmers who have made their dreams a reality."

Getting into Farming – A Workbook for Beginning Farmers in North Carolina. Resource workbook developed in 2013 by the Bringing New Farmers to the Table Project. Authors: Branan, Andrew, Lee Miller, Marisa Alcorta, Tammy Howard, Hanna Lewis. This resource helps new farmers create a vision and financial plan for their business.
Growing Farm Profits Online Course developed by Southern Sustainable Agriculture Working Group. This online course is focused on beginning farmers and those who support them. The focus is on planning for farm profitability and includes a focus on record keeping using the "Veggie Compass" tool.
Guide to NC Laws and Regulations
Growing Your Local Food Business: A guide to North Carolina laws and regulations (2012). Carolina Farm Stewardship Association. A guide for beginning and established farmers to help them understand the many federal and state laws and regulations that govern the production and sale of local foods. Specific sections provide outline requirements for farm-scale production and sale of meat, poultry, eggs, dairy, raw fruits & vegetables, honey, and low-risk manufactured foods (e.g., pickles and jams).
The Regulatory Environment for Farms in Western NC. (2014). Appalachian Sustainable Agriculture Project. This document provides an overview of licenses, taxes, certifications, land-use policies, and labor policies that apply to agriculture.
USDA Beginning Farmer Resources
USDA Rural Development Center New Farmers: Resources to Help Get You Started Farming(2016). This document lists federal resources that can help beginner farmers find and access federal resources.
FarmAnswers.org – The USDA-NIFA beginning farmer and rancher (BFRDP) clearinghouse, providing resources to help you get started farming, as well as tools to help more seasoned producers succeed.
USDA New Farmers website – Includes resources on Getting Started, Access to Land and Capital, Education, Risk Management, Protecting and Enhancing the Environment, Expanding Business, and more resources. Personalize your search on the USDA website using the new Discovery Tool
Land Access Resources
NC Farmlink – An NC State Extension program connecting farmers, landowners & service providers in North Carolina.
Capital Access Resources
The Farmer's Guide to Agricultural Credit. Rural Advancement Foundation International. This guide is aimed at helping farmers get ready to ask a lender for the financing needed in new and innovative ventures. When used as part of an overall enterprise development strategy, it can help farmers and lenders achieve mutually beneficial results when they sit down to do business.
New Farmer Training & Leadership Programs
Training Programs
Farm Beginnings: Year-Long Farmer Trainings, Organic Growers School
A farmer-led training and support program.
Soldiers to Ag Program, Agricultural Institute, NC State University A five-week program at Fort Bragg providing hands-on training and an introduction to a variety of careers in agriculture. To learn more about this effort, contact Robert Elliott at rlellio2@ncsu.edu

, 252-725-4875, or if you'd like to contribute, 

click here

 to make a gift. 

Read more about this program:
Incubator Farms in North Carolina
If you would have an incubator farm program in North Carolina and would to have your program listed here, please contact hannah_dankbar@ncsu.edu
Want to start a new Incubator Farm?
National Incubator Farm Training Initiative – "Provides comprehensive one-on-one consulting, educational resources, and professional development opportunities for dozens of organizations throughout North America."
The Farm Incubator Toolkit – "A comprehensive guide to starting and operating land-based beginning farmer training programs."
Incubator Farm Planning Resources
Resources for communities or organizations interested in starting new incubator farms developed through the North Carolina project, Bringing New Farmers to the Table, between 2010 and 2013.
Programs & Conferences for Beginning Farmers
North Carolina Conferences
Carolina Farm Stewardship Association's Sustainable Agriculture Conference
Annual event based alternate years in Greenville, SC and Durham, NC. Generally has a beginning farmer workshop track and tour.
Organic Growers School – Annual Conference
Annual conference in Western North Carolina, supporting new and existing farmers and gardeners interested in organic and sustainable agriculture.
Appalachian Sustainable Agriculture Project (ASAP) hosts a Business of Farming Conference each year for new and aspiring farmers. Farmers will learn about marketing, business planning, branding, and management.
Programs Specific to Women in Agriculture
Programs Specific to Veterans
Regional & National New Farmer Support Organizations